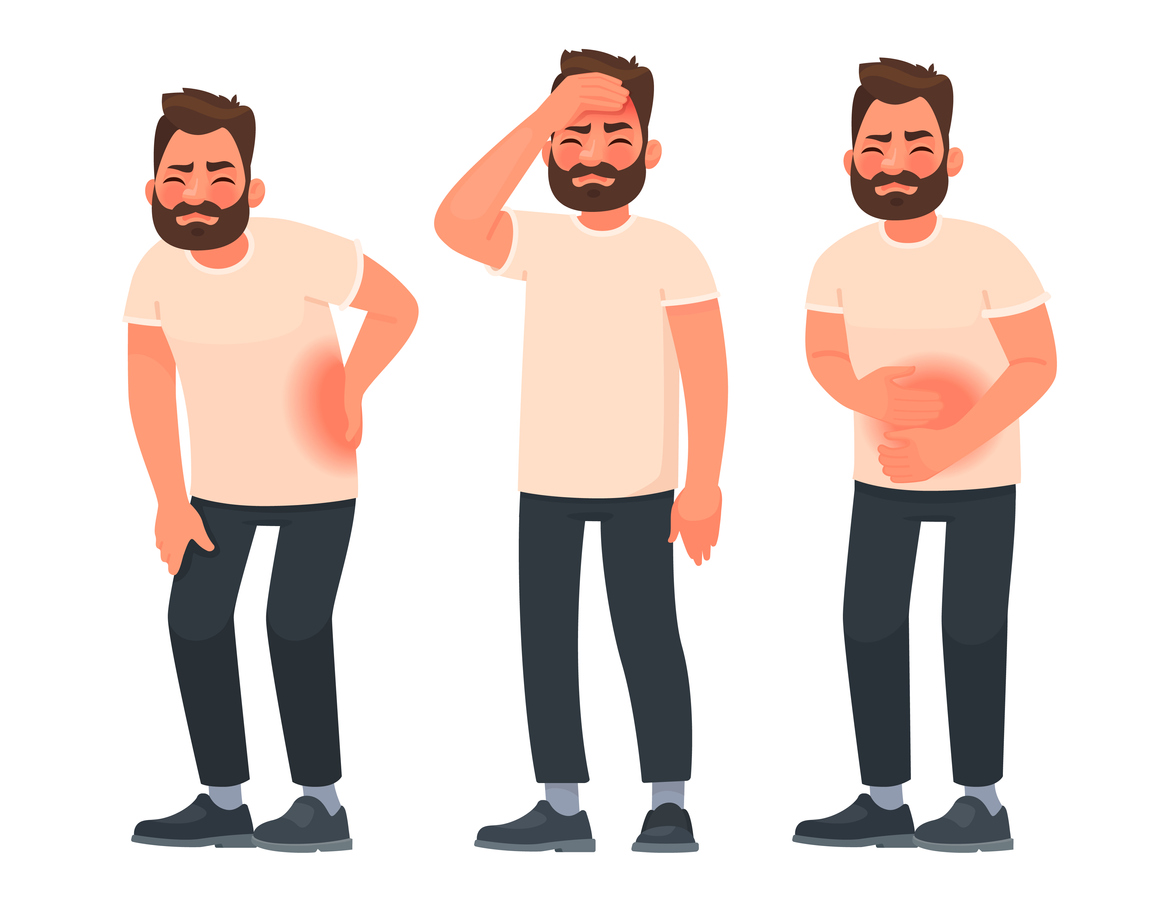 As you have probably learned by now, acid/alkaline levels vary in different parts of the body and fluids, with the ideal total ratio slightly favoring the alkaline side when in balance, reflecting a blood pH of 7.365-7.45. The interstitial fluids and lymph should be on the alkaline side as well, but unlike the blood plasma itself, their pH can drop much lower without immediate, deadly consequences. Finding this balance is not an easy task, and the body works tirelessly to do whatever it needs to in order to maintain this balance for its survival. This job becomes next to impossible for the body to accomplish with the constant bombardment of environmental toxins, lack of proper cleansing, highly acidic diets, and poor lifestyle choices!
Remember, the body is already responsible for neutralizing or ridding the acidic waste left from every single biochemical reaction that occurs. So, when you carelessly and/or unknowingly add to the body's already toxic burden, over time, delicate pH levels fall to the acidic side, initiating or resulting in some form of abnormal perpetual inflammation or another. Many health experts and scientists today believe that the underlying factor for most, if not ALL chronic diseases is inflammation!
Inflammation is the common denominator of virtually ANY disease or condition you can think of, from allergies, to depression, to digestive disorders, to neurological disorders, to cancer.
The word inflammation comes from the Latin word "inflammo", meaning "I set alight, I ignite".  It's helpful to think of inflammation as a fire, ignited to destroy invading bacteria, viruses, pathogenic yeast, pre-cancerous cells, and metabolic debris. This becomes evident when you develop a high temperature in response to a viral infection or from an injury of some sort. Inflammation also kicks in when muscle tissues are broken down, allowing them to be rebuilt stronger and healthier.
Generally, inflammation is the body's natural protective immune response to some kind of injury or infection. So, when you cut your finger for instance, the immune system rounds up its troops. Cytokines, monocytes, macrophages, neutrophils, lymphocytes, mast cells, and NK (natural killer) cells release inflammatory mediators like histamines to scorch up the antigens responsible for the event. In this case, elevated blood flow, leading to redness and increased heat, are signs of the acute inflammatory immune response to the damaged finger. However, once the white blood cells, mediators, and nutrients do their job in repairing the acute inflammation and put the flames out, the inflammatory response should shut off. When that normal protective acute immune response remains on, however, inflammation can now become chronic and create systemic damage throughout the entire body. There are many factors that can over stress the immune system.
Stress is the main culprit when it comes to intestinal and systemic inflammation and over-acidification of the body, and the stressors are numerous!
Continuous stress from work, children, and overcrowded schedules can be very overwhelming, especially when it is not managed properly. Add to that environmental toxic stress from factory exposure, from vehicle and plane exhaust, irresponsible food manufacturing, toxic beauty care products, GMO's, pesticides, pharmaceutical drugs, AGE's, rotting partially digested foods, pathogenic bacterial excretions, auto-intoxication, leaky gut, chronic emotional stress, pent up negative emotions, excess accumulation of fat cells in overweight and obese individuals, sedentary lifestyles, excess caffeine and alcohol, too much adrenaline and low cortisol from stress, high insulin, white flour-sugar, high fructose corn syrup, salt, excessive sugar, oxidized vegetable oils, acidic processed and fast foods, excessive and overcooked acidic meats (especially processed and conventional), pasteurized and homogenized dairy (conventional worse), hybridized glutenous wheat, anti-nutrients like lectins in some cases, fried foods, poor sleep, low intake of fruits and vegetables, low omega 3 fatty acids, lack of exercise and movement, previous injuries, and overworked joints. I'm sure a few more things can be added to this already long list!
Most experts now agree that when inflammation becomes chronic, it is the result of an out of control immune system. It is now known that about 70% of the immune system is educated by bacteria that mostly take residence in the gastrointestinal tract. So where does this cascading influx of inflammation mostly emanate from? You guessed it, the gut! An adult's intestinal tract stretches out from 20 to 30 feet long, which covers a lot of surface area. Besides being essential for the absorption and utilization of nutrients from food, the intestines, after the stomach, are the first line of defense (along with the skin and lungs) against pathogenic bacteria, viruses, and most environmental and internally produced toxins.
At the same time, this is also the place where most disease begins. For most foreign substances to enter the bloodstream, they must go through the protective gastrointestinal mucosa and cross several membranes. Bacteria, enzymes, and immune cells work relentlessly to ensure that only nutrients are allowed to cross the protective lining, while at the same time preventing toxic invaders from entering the bloodstream. Everything runs smoothly until exposure to the previous long list of toxic chemicals, poor food choices, and many other modern-day stressors create an inflammatory situation in the gut. This can spell disaster for your intestinal health, the central station for your immune system.
Bloating, excessive gas, periodic diarrhea, pain, constipation, heartburn, acid reflux, and depression are all early signs that your intestines are inflamed, critical pH levels are no longer in the correct balance, the immune system is compromised, and the risk of disease initiation is severely elevated!
When pathogenic microbes take over, and the intestines remain sluggish and chronically inflamed, another very problematic situation can result. Remember, the intestines are semi-permeable by nature to allow for nutrient absorption. However, a perpetual inflammatory fire can increase this permeability leading to what's known as "intestinal hyper permeability" or leaky-gut syndrome.  This basically means that larger holes are starting to develop, and the intestinal lining has become more porous than it should be for normal screening of nutrients and toxins. As a result, a DANGEROUS situation ensues when undigested proteins and other food molecules, as well as pathogenic yeast, heavy metals, and various other forms of toxic acidic waste can now skate freely directly into your bloodstream. Yikes! Now your liver and immune system are sent into a full-fledged battle to deal with the chaos.
Keep in mind, under normal circumstances most digested material goes straight to the liver via the hepatic portal vein to package nutrients, while teaming up with the lymph system to process fats, and as the second line of defense against toxic debris. As toxins and partially digested foods leak into the bloodstream, the liver becomes overwhelmed and detoxification capacity is reduced. This takes away from the liver's other duties like processing fats, estrogens, sugars, and proteins, while adding unnecessary wear and tear on the kidneys.
In addition, your immune system has to work overtime to try to clean up the mess, leaving the body more vulnerable to sickness and infection! Since the body cannot keep up with this daunting task, some of these undigested foods, toxic foreign substances, and immune cell reacting byproducts, get absorbed into fatty tissues, joints, and organs like the thyroid and even the brain, leading to a chronic inflammatory response on a systemic level.
Now the fire is burning out of control and your once allied troops begin to wage war on their own territory. These once helpful mediators now ignite an uncontrollable hellfire of free radicals, leading to a vicious cycle of decreased cellular energy, low oxygen acidic conditions, further inflammation, and more free radicals. When your immune system becomes hyper-stimulated it will most definitely increase allergic reactions and sensitivities, further increasing inflammation and lowering fluid and tissue pH, especially in the weaker areas of the body, which may be plentiful at this point. If the problem remains unresolved, the risk of developing one or more autoimmune diseases increases considerably. Keep in mind, in most cases, allergy shots and medications (especially long-term use), are not the answer and will only create additional complications – aging the body much more rapidly, until the root cause is addressed.
Eventually, the onset of this now chronic inflammatory predicament sets the stage for a crap shoot of chronic diseases. Basically, any chronic and degenerative disease you can think of involves low pH tissue and inflammation prior to the onset, initiation, and the progression of disease. This is true in most all cases, as no one lifestyle protocol or theory is 100% effective for every individual in every case.
Low pH conditions are proven to increase inflammation and cell damage in the body, and inflammation has long been known to be associated with low pH tissue. So, again, it is safe to say that varying levels of acidosis are involved in most all chronic degenerative disease.
Common inflammatory/acidic conditions include heart disease, allergies, Alzheimer's, autism, asthma, arthritis, autoimmune diseases (80 types), bursitis, cancer, cervicitis, colitis, Crohn's disease, cystitis, pre-diabetes, diabetes, gastritis, heart disease, hepatitis, infections, inflammatory bowel disease (IBS), myocarditis, nephritis, neuritis, pancreatitis, osteoporosis, obesity, Parkinson's, prostatitis, sinusitis, tendonitis, vaginitis, cancer, kidney disease, liver disease, and even depression. The list goes on and on. Keep in mind these conditions can be prevented and most can be reversed if the proper holistic measures are enacted.
These inflammatory-acidic conditions represent the majority of the US population and have reached epidemic proportions. Most the US adult population either has a chronic inflammatory health issue or is in the process of developing one. Chronic and degenerative diseases are the primary causes of death in middle and older age individuals. That means acid/alkaline imbalances of the acidic origin are extremely common and at epidemic proportions! Where you find persistent inflammation, you will find excessive acidity and vice versa. VERY PREVENTABLE inflammatory acidic conditions plague a major portion of adults in the US, with many other industrialized nations following suit.
Here are some startling statistics from the Center for Disease Control (CDC):
As of 2012, about half of all adults—117 million people—had one or more chronic health conditions. One of four adults had two or more chronic health conditions. And remember inflammation was present prior to the onset of these diseases. As you can imagine, many more individuals are walking around in a pre-diseased inflammatory acidic state, where it is only a matter of time before the rope snaps.
According to Berkley Wellness of California, "Researchers have found that chronic inflammation is involved, to varying extents, in everything from coronary artery disease, cancer, obesity, and type 2 diabetes, to Alzheimer's, chronic obstructive pulmonary disease (COPD), allergic conditions such as asthma, and autoimmune conditions such as rheumatoid arthritis and inflammatory bowel disease."
Seven of the top 10 causes of death in 2010 were chronic diseases. Two of these chronic diseases, heart disease and cancer—together accounted for nearly 48% of all deaths!
The direct correlation between inflammation and cancer is widely accepted and has been known for some time now. In fact, as far back as 1863 Virchow hypothesized that the origin of cancer was at sites of chronic inflammation. According to The American Medical Society one in two men and one in three women in the U.S. expected to be diagnosed with Cancer.
According to Harvard Health Publications, "Chronic low-grade inflammation is intimately involved in all stages of atherosclerosis, the process that leads to cholesterol-clogged arteries." This means that inflammation sets the stage for heart attacks, most strokes, peripheral artery disease, and even vascular dementia, a common cause of memory loss.
More than two-thirds of U.S. adults are overweight or obese (Ogden et al., 2014) As weight gain persists, adipose tissue cells attract more and more pro-inflammatory immune cells. That accounts for a great deal of Americans that are inflamed and acidic by excess weight alone!
About half of US adults (47%) have at least one of the following major risk factors for heart disease or stroke: uncontrolled high blood pressure, uncontrolled high LDL cholesterol, or are current smokers. All of these involve inflammation. Ninety percent of Americans consume too much sodium! That is, imbalanced acidic iodized toxic table salt with very little potassium, magnesium, and missing over 80 other minerals, greatly increasing the risk of hypertension.
According to Dr. Mercola, "About 90 percent of the money Americans spend on food goes to buy processed food. What's worse, new research shows that, astonishingly, more than half—nearly 60 percent, in fact—of the food Americans eat is ULTRA-processed." This type of diet is known to be highly acidic and extremely inflammatory inducing!
In 2012, 86 million Americans age 20 and older were pre-diabetic, a condition in which blood glucose levels are higher than normal, but are not high enough for a diagnosis of diabetes. People with pre-diabetes are at increased risk for developing type 2 diabetes as well as heart disease and stroke. Increased blood sugar, blood insulin, fat cells, and the resultant increased production of pro-inflammatory cytokines, are all responsible for producing acidic/inflammatory conditions.  
Chronic inflammation is often referred to as "the silent killer", especially in modern day America, and the problem continues to get worse instead of better. Frightening is that over 75%, or 3 out of every 4 Americans, are affected by this systemic assailant. "Silent" because pain does not always accompany the inflammation, especially in the early stages. Even when there is some pain, often times people become accustomed to it, and it becomes their "new normal". This low-grade systemic inflammation in conjunction with low grade chronic acidosis can begin fairly quickly and linger for many years, where it can take a foothold on various joints, intestines, and other tissues and organs. This chronic low-grade systemic inflammation is fueled mostly by a lack of proper cleansing, and preventable diet and lifestyle related factors, like those mentioned in the previous paragraph's long list. Unfortunately, many conventional tests for inflammation don't even pick up on the inflammation until a chronic condition already rears its ugly head.
Low grade chronic acidosis and inflammation are serious underlying factors at the very least, in the initiation of the disease process, and its progression…
Most all experts agree that most every disease known to man involves inflammation. Where there is inflammation there is acidity, and where acid accumulates there is inflammation, plain and simple.
Most cancers, especially the ones involving solid tumors, don't just surface without a prior adverse inflammatory situation involving low pH fluids and low oxygen tissues, often plagued with pathogenic bacteria and viruses. Therefore, to say that acidity is just an effect of cancer, has no scientific justification nor is it logical. That would be the same as saying inflammation does not promote degenerative disease which we know is not true. Rarely is any theory 100% true or effective, but we can make this statement with confidence. Even if it were found that dysaerobic, catabolic, overly alkaline (as opposed to acidic), free radical, lactic acid producing tissues, with low oxygen availability, were to augment particular cancers in the earlier stages in rare cases, the origin of the issue would still be excessive acids.
Anyhow, the cancer will acidify the cellular environment fairly quickly, especially when metastasized. There is not enough evidence or literature to expand on this theory at this time, but if your're one of the very few that can't eliminate cancer with alkali treatment at first, it may just be as simple as re-oxygenating the tissues with arginine, a precursor to nitric oxide, which once again makes the oxygen available from red blood cells, strengthening the immune system, and killing cancer cells. The protocol would be more extensive than that of course, and should be monitored by an experienced practitioner, especially in more extreme, rare cases.
What you decide to put in your mouth can have either a cooling effect, or kindle inflammatory fires within the body. Whether or not you are aware, many of the foods you CHOOSE to eat on a daily basis can be pro-inflammatory, some of which need to be limited, and some that should be avoided completely. Besides all the negative adverse effects that can spawn from the synthetic pesticides, GMO's, antibiotics, artificial hormones, and irradiation you find in most conventional, processed, packaged, and fast foods, the type of foods you put in your body can have a profound effect on your body's inflammatory response. Consuming too many acid forming foods and beverages with insufficient alkali sources needed to maintain balance, is synonymous to consuming too many pro-inflammatory foods without enough anti-inflammatory food choices. Your net balance will fall on the inflammatory acidic side.
With that being said, there is a direct relationship between what you consume, the volume of inflammation, and acid/alkaline balance. The same foods that ignite those internal blazes drive acidity levels up, throwing off pH levels, negatively impacting hormones, enzymes, beneficial bacteria, cellular metabolism, and immunity. The acidity feeds the inflammation and the inflammation in turn adds to the acidic load and vice versa. When you work to balance your body's pH, you are also laboring to control that damaging, incessant inflammatory response. Consuming an anti-inflammatory pH balanced diet can mean the difference between life and death, especially if you have a heart condition or any other condition for that matter. Inflammation and excess acidity are present at the initiation and progression of just about any disease you can think of!
http://www.diabetes.org/diabetes-basics/statistics/#sthash.LRN5VVbm.dpuf